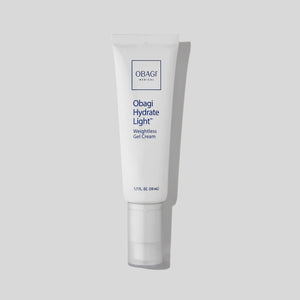 A lightweight hydrator clinically-proven to replenish hydration for 24 hours that is oil-free, non-comedogenic, hypoallergenic, and revitalizes the skin's moisture barrier for overall skin health.
Obagi Hydrate Light™ Weightless Gel Cream Moisturizer is a weightless, fast-absorbing gel cream formula. This hydrating moisturizer contains both humectants (attracts moisture to the skin) and occlusives (helps to seal in that moisture). Together, these ingredients work to hydrate the skin, replenish the skin's moisture barrier, and keep the skin looking plump and smooth without clogging pores.
Obagi Hydrate Light contains powerful antioxidants that help combat the effects of free radicals and prevent accelerated signs of skin aging caused by photodamage.
This new addition to our Hydrate Collection is formulated for all skin types. The fast-absorbing, lightweight, airy texture of this moisturizer is great for active lifestyles and those experiencing warm, humid climates. The fast absorption technology provides versatility for daytime skincare and makeup layering or breathable, overnight nourishment leaving the skin wrapped in a refreshing veil of moisture, lasting 24 hours.
There is an Obagi Hydrate for everyone and every occasion.